Wall Murals
Painted decoration for interiors and exteriors
The enlivenment of interior and exterior walls through the use of painted decoration ranges from the simplest kind "limited to the colour effect" right through to "detailed illusionist painting" or trompe l'oeil. The term "trompe-l'œil" comes from the French and means "deceive the eye" – tromper "deceive", l'œil "eye".
I am happy to advise you when choosing the motif, its execution and the different colour systems.
Some of the projects that I have executed such as illusionist painting, nursery design or façade design are shown below.
Nursery
Painted design of a nursery with motifs from Walt Disney - Mowgli.
Only high-grade mineral paints were employed both for the painting work and the painted motifs in order to maintain a healthy indoor climate.
The paints used here are free of solvents, softeners and preservatives, and are breathable and allergy friendly; in other words, ideally suited to this sensitive living area.

View 5 pictures
---
Blue lagoon façade
Modern façade design, executed with the finest acrylic paint.
Customer's requirements: To give the grey house, which prior to this was non-descript and unprepossessing, a new lively, attractive and distinct appearance through the application of paint. Besides brushes and paint roller, a spray gun – paint application in a spraying process – was also used.

View 4 pictures
---
Illusionist painting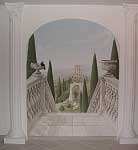 Illusionist painting in the living area (living room).
Customer's requirements: painted view of a Greek landscape.
High-grade material colour was used due to its brilliant satin-matted surface.

View 4 pictures
---
Gallery of exterior painting – façade design
Various projects I have completed – façade design – façade paintings – lettering etc.
For my exterior paintings I only use notable high-grade products such as Keim mineral paints – weather-resistant, extremely light-resistant (lightfast) and tried and tested for over 100 years.

View 7 pictures
---
Galley of Murals – interiors
Some of my interior paintings – illusionist painting in a wellness area, decorative interior design, murals, different painting techniques and paint systems (acrylic, soluble glass, casein).

View 7 pictures