Stencilling
Stencilling – stencil painting or cartridging – is a way to transfer ornaments, patterns or even letters by means of a stencil. Walls or ceilings can be ornamented relatively quickly using this technique. The use of stencils in decorative painting is steeped in tradition and is also used in a wide variety of interior design styles today. I mostly produce my stencils myself on the basis of my own sketches, modern or historic models. In part, I use self-manufactured stencil paper for this purpose. This technique is awarded special appeal due to the selected binding agents such as casein.
Walls and ceilings that I have stencilled can be seen below by clicking on the image.
Stencilled vault in the Beethoven School Vienna
Due to the acute crack formation, the old glue-bound distemper paintings had to be removed completely (washed off). The stencil pattern was removed beforehand and the many shades mixed carefully. I stencilled in the old patterns – with self-produced stencils – in the original colours and forms again on the newly glass-fibre reinforced surface.

View 6 pictures
---
Stencil room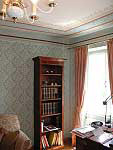 During renovation work, old stencil paintings were revealed on the walls and ceiling after the wallpaper had been removed. The stencil pattern was copied from the ceiling and walls with great precision and I used it to produce my own stencils. For me, it was very important to recreate the precise mixture of the original colour shades. With these colours and the reproduced stencils, it was possible to restore the room to its original condition.
In order to seal the cracks on a permanent basis, a glass-fibre reinforcement was applied to the ceiling before the stencilling. In order to preserve a healthy indoor climate, a high-grade mineral paint was chosen for this work. The stencilling and lining work on the ceiling and walls was likewise executed with these mineral paints.

View 5 pictures
---
Ceiling design with stencils
The customer's request was: "please no stucco, we want something else ... a stencil painting", so I produced some sketches and together we selected the desired ceiling design. The entire stencilling work was stencilled and lined using high-grade mineral paints. Special attention was paid to the slightly glazed (not fully opaque) design in order to avoid lending the painting new "dispersion characteristics".

View 4 pictures
---
Stencilling in a hallway
After removing many old, no longer intact coats of colour, an old stencil was revealed on the ceiling (19th century). The old stenciling, which was now barely visible, was copied down and completed where parts were missing. With stencils I reproduced myself, the old ornaments were stencilled in again to match the new wall colours.

View 5 pictures