faux wood, woodgraining, wood graining, wood-graining, faux, graining, wood, wood grain, glazing, veining,
Faux Wood – Woodgraining (glazing, veining, graining)
Wood graining (faux wood) is a technique used to imitate various wood types so as to produce true-to-life results. Glazing, veining or graining are common techniques used in woodgraining. I learnt this technique from old masters with oil and water-based glaze. The classical method with oil-based glaze or water-based glaze (i.e. water-borne glaze, beer glazing or vinegar glazing) is characterised by its special transparency and durability. When correctly applied, both types of glaze produce beautiful and true-to-life wood grain images. For graining I employ classical tools and paintbrushes such as check roller, coarse-pore check roller, flat fitch, mottler, birch mottler, badger softener, pencil overgrainer, extra short mottler and flogger (brushes).
Have a look and compare the different qualities of contemporary glazing work (wood graining). I am always at your disposal should you require high-quality finishes.
Some of the doors, furniture, etc. that I have glazed (grained) can be viewed below by clicking on the image.
Have fun with my woodgraining and faux wood.
Grained plaster ceiling – Faux nut wood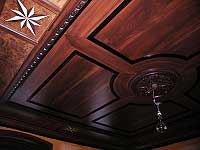 A stucco ceiling with "natural wood look" dark nut wood was grained with water-based glazes, working overhead. Water-based glaze means that the pigments Cassel Earth and burnt Sienna were mixed with beer (beer glazing). Burr walnut was applied on the lower side panels. Also, imitation marquetry (star – maple wood grain/ebony) can be found on the ceiling.

View 5 pictures - faux wood
---
Wood graining - Walk in closet
Wood graining - Stucco and press boards – the material from which the elegant high closet was built – "refined" by faux cherrywood. The closet and all other stucco work were grained to match the wood already existing in this room (2 doors and floor). By means of the form, colour and technique of the wood imitation, particular attention was devoted to the optimal interplay of stucco work with the imitation painting. The high wood grain images on the doors were painted in a mirror-version and connected to the friezes with a fine line.

View 4 pictures - wood graining
---
Various grained doors and gates
Faux wood on doors and gates has a long tradition. Soft cheaper wood was masqueraded as expensive high-quality wood. Nowadays, oak or nut are used almost exclusively. Previously – almost forgotten today – doors were grained with all imaginable wood grain images (glazed). Here and on my site "Holzimitation.at" you can find a variety of (grained) doors and gates that I have glazed.

View 14 pictures - woodgraining dors and gates
---
Gallery Woodgraining - Faux Wood
Various faux wood images in a wide variety of designs. Everything that you see here is "imitation" The faux wood is painted, all three-dimensional features are painted and the marquetry (wood insert work) is "only" painted. I also glaze wood grains that are hardly used anymore today, such as pitch pine, node mahogany or bird's eye maple.

View 8 pictures - faux wood
---
You can find further information and images of the painting technique used in wood graining on my website "www.Holzimitation.at"